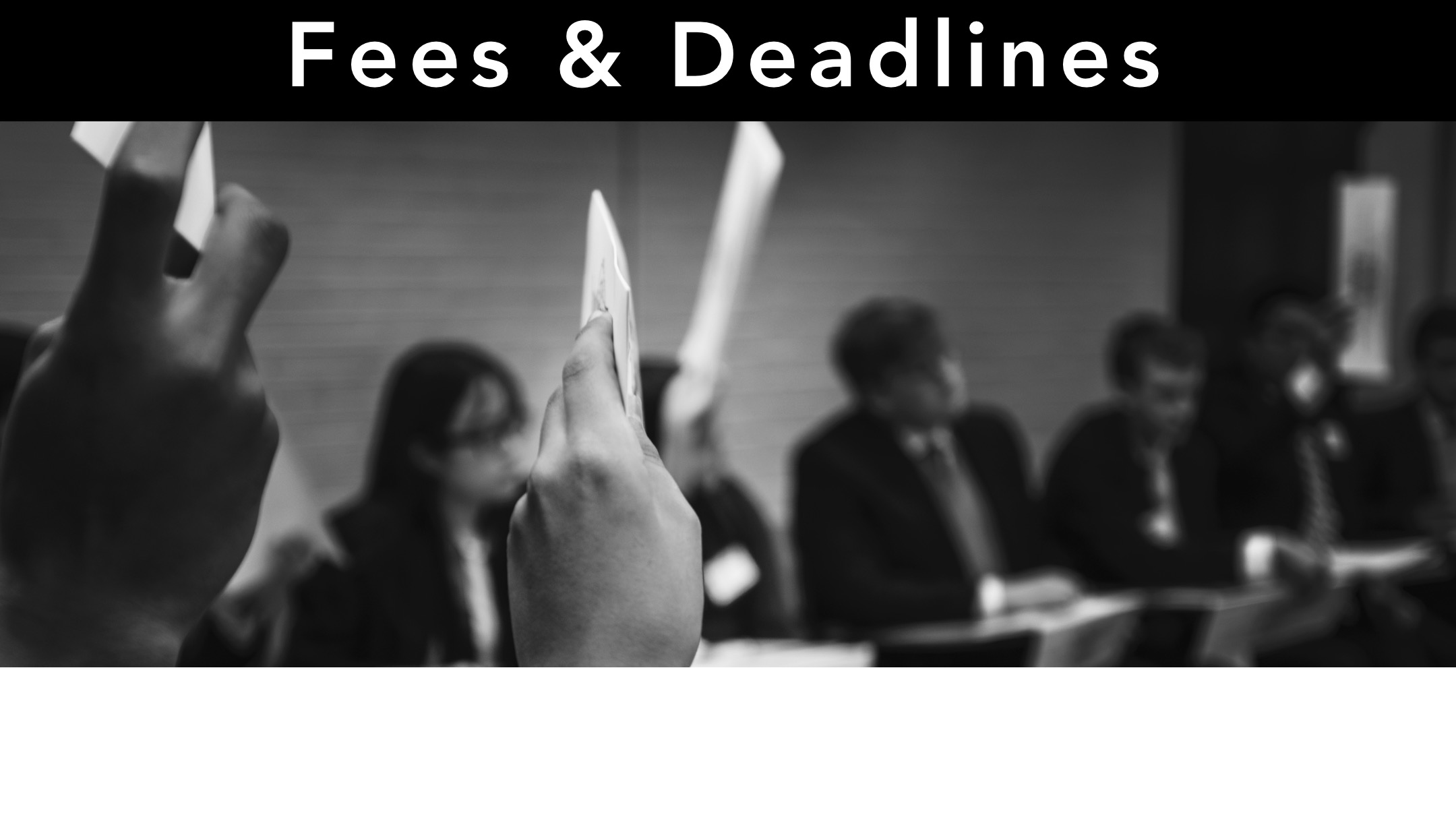 Fees
Fees are split up into three portions: a registration fee (paid once per school attending), a delegate fee (charged for each individual delegate), and a chaperone fee (for each additional chaperone in excess of the ratio of one chaperone for every ten delegates). The registration fee must be postmarked by the deadlines indicated below to complete the registration process. Schools that fail to pay the registrtion fee by the Late Payment deadline forfeit their participation in the conference. Schools placed on our waitlist are not required to pay the registration fee until they are offered a spot at the conference.
| Fee | Regular Payment | Late Payment |
| --- | --- | --- |
| Registration Fee | $55 | $65 |
| Delegate Fee | $60 | $70 |
| Chaperone Fee | $10 | $10 |
Shuttle fees are $18 per person. More information regarding shuttles can be found here.
Deadlines
July 31, 2020 — Deadline for Regular Payment delegation fees

Delegation fees must be submitted by this date to avoid being charged the late payment rate for all fees (including delegation, delegate, and chaperone fees). After this date, delegations will be charged at the late payment rates indicated above.

September 18, 2020 — Deadline for Late Payment delegation fees
October 2, 2020 — Deadline for all fees
Cancellation and Refund Policy
The initial delegation fee is non-refundable. However, BUSUN refund policies for delegate, chaperone, and shuttle fees are as follows:
Before October 2:

Full refund of payments

October 2 - 16:

50% refund of payments

After October 25:

No refund offered
Payment Methods
Payment will only be accepted in the form of cash and checks. We unfortunately cannot process credit cards. International delegations should contact the Director of External Affairs at info@busun.org for details on payment via wire transfer. Please make all checks out to Brown University Model UN. Payments should be mailed to:

Brown University Simulation of the United Nations
Box 1930
69 Brown St.
Providence, RI 02912